It really has been a crazy week.
At the end of nearly every term we have this thing called a projectweek. And this time the theme was coöperation.
All the student in the second and third year of the design school were trown together and devided into 12 groups with about 8 to 9 member each.
The assignment was simple. Last year the school was was reconstructed and now they needed new signs for the workshops. Each group had to design new signs for the workshops and some wayfinding signs (because the school is a maze). One design within a budget of 5000 euros, and one design that could be crazy, without any set budget. And we got 5 days to work at it and the fifth day we had to present our idea to a jury, who would then point out a winner whose idea would be put to actual use.
I ended up in a group with four dutchies, one german girl, a swedish/polish guy, a portugees one and a finnish fellow. And not everyone's English was up to par (including my own) so communicating was a bit of an issue. Soon half of the group was not doing much because they had no idea what was going on and the other half was struggling to communicate. Sometimes someone would take the lead of the group but fall back later on. It was one big mess and we made long days to figure everything out.
Can't say I learned nothing about working together…
But as time progressed we got used to speaking in english and our concept was devided so everyone had something to do. In the end it all came nicely together.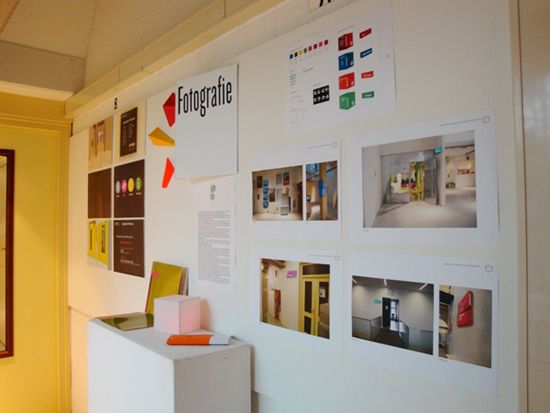 We had so present our idea to a jury, and got a wall assigned to do so. This is what it looked like at the end of the week. On the right is our concept for the budget idea (A) on the left our more extreme idea (B). This presentation (minus the lightbox, I took that home agian) will be up for the coming week.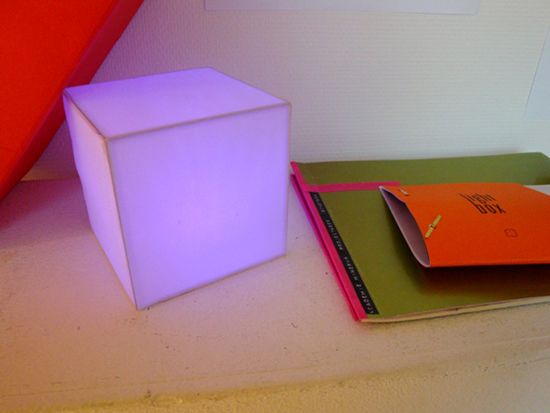 Our more budget concept (concept A) was to put up boxes that emitted light everywhere in the building. Not just as boxes but they would partially come out of walls and columns, so every type of sign would be different.  The directions and names would be printed onto the lightboxes. The boxes would also have a different color every once in a while  to show the many faces of our school. It was a neat idea but pretty difficult to put into practise.
Our second concept (B) was basically produced by only one of my teammates, and she did a great job! This concept was also about light, but instead of lightboxes we wanted to put LED's in the floor with different colors to guide you to different parts of the school.
We didn't win the contest, but I really don't mind. The winner had to actually realize their concept and with our idea that would have been a massive undertaking.
In my opinion the winners definitely deserved to win. They had this extremely cool idea of making these life sized silhouettes on the wall that would point you the way. Like cartoon style cats and robot-like creatures.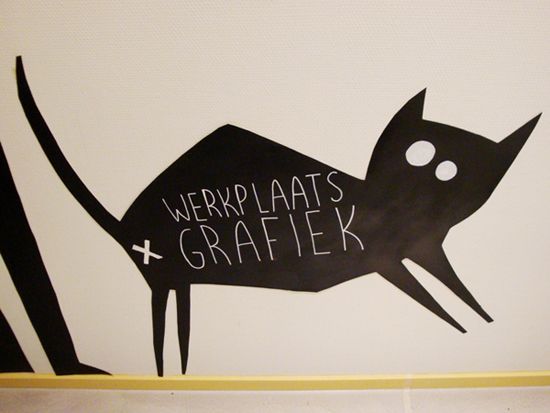 When I finally went home friday evening I still had to dress up for a halloween party that same night. I didn't want to bring along a whole lot of attributes or put a lot of effort (read: money and time) in a costume so I took a green shirt and skirt out of my closet and slapped on some makeup so I could go as some kind of forest fairy. It worked out alright and I got some compliments as well.
I felt so smart choosing a fairy costume. My real name is Félice, but I like to be called Fé or Fee (pronounced phae or faye) which in dutch means fairy. Yeah, kinda lame. But hey! it did work out well.
So here's a picture of me in horrible light and a forced smile, with courtisy of my mum.
After the party ( I left early, at half past three in the morning) I was picked up by my best friend and slept over. He was so nice to come pick me up and he made me eggs in the morning, the perfect after-party meal!
This weekend I did not do much. I was so tired from the past week. Next few weeks will be just as crazy, I am behind on some subjects and I really need to focus on that. So I hope to be able to update at least once a week, maybe twice a week.
Cheerios with cream cheese!
Faye